Defender Brand Application Services
Pathogen protection for Commercial & Residential use
Defender Brand application services are provided by Omega Superior Maintenance, a fully licensed, bonded, and insured company ready to serve you and make your office or home safe. The Omega Maintenance team is highly trained, skilled, and certified to decontaminate and disinfect commercial buildings across Canada.
Defender Brand focuses to bring new technologies of broad spectrum antimicrobial solutions to the Canadian market with our application partner, Omega Superior Maintenance.
Defender Brand is committed to redefining the standard Sanitizer and Disinfectant protection solutions with an eco-friendly line of products that effectively destroy harmful viruses, bacteria, molds, and pathogens while keeping you safe and protected.
The Science Behind Defender Brand
What is the difference between Mechanical kill and Chemical kill?
Mechanical kill refers to products that kill pathogens by rupturing the cell wall, destroying them entirely and avoiding the issue of contributing to antimicrobial resistance.
Chemical kill refers to products that kill microorganisms by leaching into the cell, which has been shown to cause microorganisms to mutate, adapt and develop antimicrobial resistance.
These mechanical and electrical properties make electronically charged nanospikes which are very useful providing a physical kill to 99.99% of viruses, bacteria, odour, moulds, mildews and algae.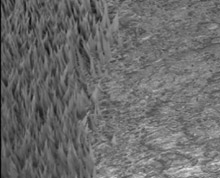 When applied properly the microcrystalline structure is formed over the surface as it dries.
The billions of spikes form a covalent bond essentially creating a new surface that is deadly to microorganisms but unnoticeable to humans and completely safe to the touch.
As unwanted cells attempt to attach to the surface its the membrane is punctured and destroyed via a Mechanical Kill.
Defender Brand uses antimicrobial and anti-viral, fast-acting nanotechnology that kills viruses and bacteria and prevents them from binding to surfaces.
The active ingredient is a polymer that is colorless, odorless, positively charged and binds to the treated surface, forming a layer of "swords" that are electrically charged. By puncturing the cell membrane, they protect the surface from biofilm formation.
Antimicrobial Protectant
Antimicrobial product protection is a built-in active ingredient that enables products to resist the growth of microbes such as bacteria, mold and mildew.
Benefits of an Antimicrobial Protectant
Effective Against Bacteria by up to 99.99%
Food-Contact Approved
Helps Fight the Growth of Mold and Mildew
Reduces the Risk of Cross-Contamination
Safe for Use in a Variety of Environments